ASPICC Software
ASPICC develops primarily in Python.
You are free to use our programs and investigate and modify the codes for noncomercial use.
When applicable, please reference the SW and the demonstrated algorithms in connection to our published works.
If you need to install Python on Windows or Mac (Linux usually have Python), you can download Python 2.7 as the Anaconda distribution from Continuum Analytics, where you get also Spyder (the nice IDE for Python) and package install managers "pip" or alternatively "easy install" to install extra required Python modules.
---
 Padasip - Python Adaptive Signal Processing (GitHub , PiPy)

Features:
This library is designed to simplify adaptive signal processing tasks within Python (filtering, prediction, reconstruction, classification). For code optimisation, this library uses Numpy for array operations.
Also,some new methods for adaptive signal processing are presented in this library. The library is designed to be used with datasets and also with real-time measurement (sample-after-sample feeding).
---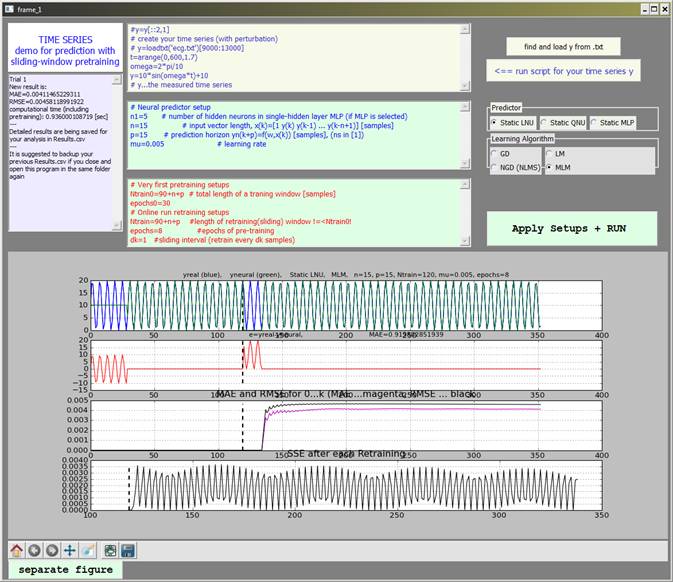 Time Series prediction with sliding window re-training (50 KB)

Features:
This program demonstrates time series prediction with real-time window sliding retraining [10]. So far, there are implemented 3 kinds of direct predictors (static LNU, QNU and a single-hidden layer percetron neural network (MLP)) with two variations of gradient descent (GD and NGD, i.e. LMS and NLMS in case of LNU)) adaptation, with the RLS learning rule for LNU and QNU, and 2 variants of Levenberg-Marquardt batch training (L-M,MLM) [10] and batch Conjugate Gradient learning for LNU and QNU as well. You can investigate various setups and you can investigate and customize the code. The neural architectures with particular learning algorithms are coded as callable methods of a general object Y() in file "TS.py" in a root folder. You can use, modify or have a look on these codes for your own purposes. Some demo data (also used in [10]) are in sub-folder /data.
This program and the Python code is free for non-comercial use with no warranty.
Requires:

Python 2.6, 2.7 and higher (higher not tested);
basic modules: Matplotlib, Numpy (comes with Anaconda distribution)
extra modules: wxPython, easygui
---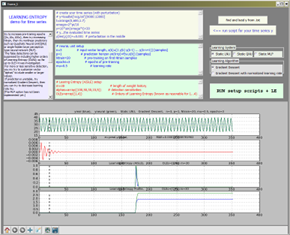 Learning Entropy demo for time series (7 KB)
Features:
This program demonstrates the use of Learning Entropy [4,8] for novelty detection in time series where relatively simple real-time learning systems can instantly detect novelty in otherwise complex dynamical behavior [1-3].
This program and the Python code is free for non-comercial use with no warranty.
Requires:

Python 2.6, 2.7 and higher (higher not tested);
basic modules: Matplotlib, Numpy (comes with Anaconda distribution)
extra modules: wxPython, easygui
---
ASPI Kit (unstable)
Features:
Users can investigate adaptive signal processing and control algorithms on their own process data, the related publictions on the algorithm can be found also in [11,7,5]
under development